About Carlson Gracie Las Vegas
Learn What Sets Us Apart!
Here you can learn more about Carlson Gracie! Carlson Gracie Las Vegas is the prime place to take high-quality Jiu Jitsu classes in Las Vegas.
Jiu Jitsu empowers students with the confidence required to confront bullies and safeguard themselves effectively. Through martial arts training, the mind, body, and lifestyle experience significant enhancements, fostering not only physical prowess but also self-assurance and character development. Joining the Carlson Gracie Las Vegas community means joining a close-knit family, where our school seamlessly transforms into a cherished second home for our students.
Within our walls, judgment holds no power. Every misstep is perceived as a stepping stone toward personal growth, fostering an environment where both your instructors and fellow students wholeheartedly champion your progress. At Carlson Gracie, the journey encompasses acquiring an array of impressive skills and newfound abilities; yet, above all, it's the sense of belonging to our vibrant community that defines your experience here.
Contact Us Today!
Carlson Gracie Las Vegas
Brazilian Jiu Jitsu Instructors
Here at Carlson Gracie Las Vegas, our staff is the secret to our student success. Each instructor has a rich background in martial arts and is eager to train the next generation of martial artists.
Martial arts offer a multitude of benefits that foster a robust mind, body, and spirit. We firmly endorse the principle of reaping what you sow in your training efforts. By dedicating yourself to our BJJ classes, you will cultivate humility, strength, and improved health. The attentive Carlson Gracie Las Vegas team stands by, ready to steer your training journey and ensure your well-being. Our enthusiasm for both teaching and Jiu Jitsu is wholehearted, and we extend an open invitation for anyone to partake in this enriching experience. Each instance you step onto the mat at Carlson Gracie Las Vegas, you will depart with a sense of accomplishment and a newfound confidence in your enhanced self-defense abilities. For a closer introduction to the team, please refer below.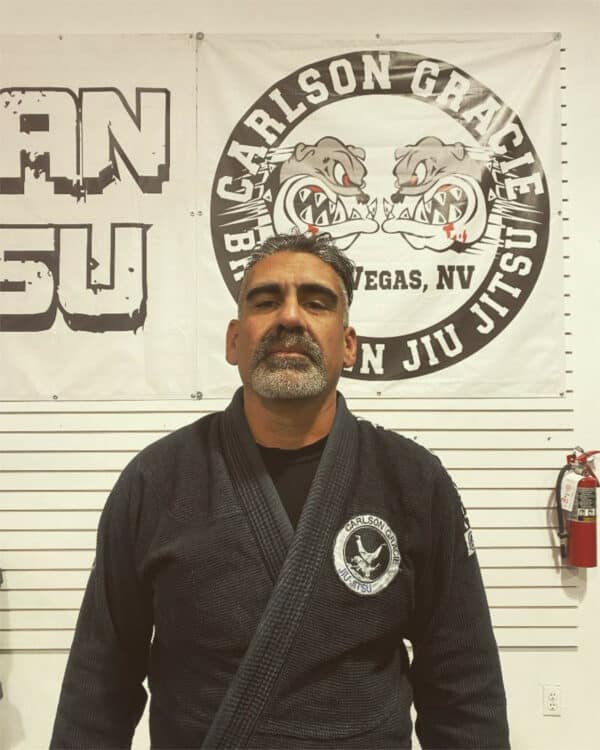 BJJ Instructor
Marcel Moralez
Born in Las Vegas, NV, to Cuban and Filipino parents, he has embraced both cultures throughout his life.
A graduate of Valley High School and the University of Nevada Las Vegas, he holds a bachelor's degree in International Business, with licenses as a personal lines insurance broker and Realtor, Marcel boasts over 25 years of versatile business experience.
Beyond the corporate world, Marcel is a martial arts aficionado. His roots were in Kempo Karate and Muay Thai before starting Brazilian Jiu Jitsu. Marcel began training in 2011 under the Carlson Gracie Team. In 2021, he achieved the coveted black belt status, a testament to his dedication guided by his Professor Romulo Caiado.
Marcel's passion extends beyond personal accomplishment in Brazilian Jiu Jitsu.  He started teaching as a gesture of support towards his fellow teammate Professor Bryan Calleros, a person that he has always looked up to. Sharing his 12 years of knowledge brings him true fulfillment, as he transforms lives through the art that changed his very own.
Amidst all of his endeavors, Marcel finds joy in the company of his wife Jennifer of 20 years and four children: Tyler 18 , Myles 16, Kylee 15, and Rylee 6.
Read More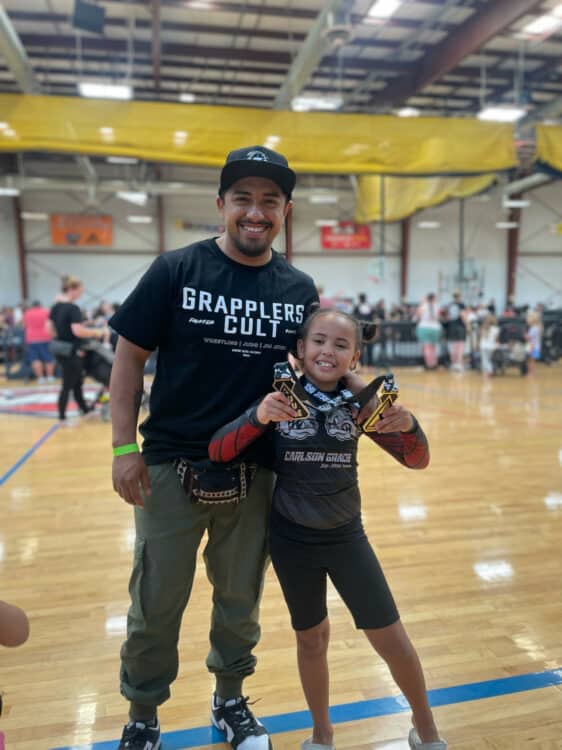 BJJ Instructor
Nathan Garcia
Nathan Garcia was born and raised in Las Vegas, where he grew up wrestling starting at the age of 5.
He won individual and team state titles at Las Vegas High School, before moving on to wrestle in college at Baker University where he earned his degree in Exercise Science.
After graduating, Nathan  began coaching wrestling, currently coaching for Pride Wrestling Club, SLAM Academy, and BKMMA.
He currently trains and holds a purple belt in BJJ.
Read More
I dropped in for a class today, from out of town, and had a great time. Awesome staff and facilities. Training partners were great and welcoming as well. If you're looking for a place to train in Vegas or if you've ever considered trying out Jiu Jitsu, do it! This would be a great place to start.
Professor Bryan & the Carlson Gracie Team are a wonderful group of talented grapplers. If you're looking for a gym that has a well developed foundation to build upon; this is the gym for you. C.G. gyms have a high reputation within the combat sports community, & this one lives up to its name. I have gladly recommended all my friends to this club, & to anyone who is interested in learning the art of Jiu Jitsu. These are the kind of people you'd want to have in your corner.
Great location. Fun atmosphere. Great classes for all levels and all ages. Professor Bryan is very attentive to all students. I have been to other schools where they could care less if it's your first day or not and rarely even acknowledge your presence. Carlson Gracie LV is a perfect spot to get your kids, or yourself, involved in BJJ!
Are you interested in what Carlson Gracie Las Vegas has to offer you?
Browse Programs